Welcome to J.J. Teaparty
WE NEED TO BUY COINS!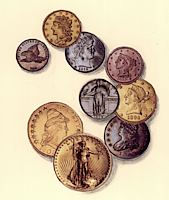 SHOULDN'T YOU BE DEALING WITH US?
Trustworthy
Excellent Customer Service
Accomplished. Two contributors for pricing to the Guide Book of United States Coins
Professional--over 175 years combined experience
Aware of market conditions
Respected. One of the best known names in the business
Talented. First class numismatic staff
Yes! Your answer to the above question! While others talk a good game, J J Teaparty delivers
Thinking of Selling? Talk to Liz and give us a try,
you won't be disappointed. She can be reached at 617-821-8430
Wanted: Individual pieces, sets, complete collections, estates, etc. Let us know what you have for sale!
Here is what one consignor recently had to say about his experience selling his Barber coinage collection through us:
"Liz,
I received a check in the mail today, a very nice surprise. I am so glad to have you handling this transaction for me.

Joe" This is what David Hall, President of PCGS had to say about J. J. Teaparty, Inc. "If all coin companies were like J. J. Teaparty, there would be no need for PCGS."