Let J. J. Teaparty help you chart a course for your collecting endeavors. . .
Join C.P.C our monthly Coin Portfolio Club, today!
Call Dr. Gene Toll free today for more information or to enroll. Dr. Gene 1-800-343-6412,
gene@jjteaparty.com
Benefits of the Coin Portfolio Club:
Ease of Collecting. You can watch your collection grow, and we will do all the work for you. We know you have a busy schedule and your time is valuable, so we would like to assist you in your collecting endeavors. Our staff of professional numismatists is one of the best in the business--whether we are buying the coins that will be placed in your collection or providing you with superb customer service, we are sure you will be pleased with your experience at J. J. Teaparty, Inc., and more importantly, that you will LOVE the coins we hand-pick for you. Dr. Gene will assure you get the best quality coins and service possible. Gene is an astute numismatist and is well respected in the numismatic community for his knowledge and awareness of market conditions. He looks forward to working with you to build a quality collection.
Superb customer service We will find quality pieces at competitive prices and ship them to you on approval with postage and insurance prepaid. You will then be able to enjoy the collecting process with ease and convenience by adding beautiful pieces to your collection while avoiding the expense and hassle associated with trying to find the coins yourself. An added benefit is having your very own personal numismatic representative working for you on a fulltime basis with no additional charges.
Exceptional Coins. You will receive the first choice of our new purchases before they are advertised. And, further, you will have the opportunity to take advantage of special confidential offers from time to time. All coins selected for your collection will be carefully chosen for quality of planchet, technical grade, sharpness of strike, luster and, most importantly, overall aesthetic appeal.
Affordability One of the biggest advantages of this monthly acquisition program is this. You can now afford the expensive coins that have alluded you in the past, because this program works like an extended layaway. You are only paying a certain amount per month, but you are free to buy a more expensive coin while still paying the same monthly amount, it will just take a little longer to pay off. In this way, you can obtain those elusive and scarce issues you have always wanted!
How to Get Started:
Simply choose a program from the options listed below along with the monthly dollar amount you would like to spend. Call Dr. Gene at (1-877-772-4245) for MA residents, or (800-343-6412) to get enrolled. Not sure what you want to collect, Dr. Gene will make recommendations for you. It's as easy as 1, 2, 3. What Happens Next? As soon as you enroll and provide us with a method of payment, your first selection will be sent to you. All future payments will generate your next selection. All coins come with a complete guarantee of satisfaction. If you are not completely pleased with your selection, please return it to us. We are not happy unless you are. The program is flexible, if you are unable to make a payment one month because of the holidays, taxes or an unexpected expense, simply call us and we will suspend your program for a month or two. You are free to discontinue the program at any time.
C.P.C. Collection Options:
We have developed some programs based on series that have proven to be popular among collectors throughout the years. If you would like to collect something different, or focus on another specialty, please call us at 1-877-772-4245 or 1-800-343-6412 to design your own program.
Everyman PCGS Registry Set Custom Collections:
We are market makers in PCGS-graded collector type coins in all series. Call us today about a custom program to help build a quality Everyman PCGS Registry Set in the coin series of your choosing. Depending upon the grade you choose, the monthly dollar amount will be $100 or more. Call us to discuss building this custom plan for you.
GOLD, GOLD AND MORE GOLD:
We suggest assembling an 8 piece gold type set which would consist of the following coins: $2.5 Liberty Head; $2.5 Indian Head; $5 Liberty Head; $5 Indian Head; $10 Liberty Head; $10 Indian Head; $20 Liberty Head and $20 Saint-Gaudens. Our recommendation would be to assemble these pieces in MS-60 to MS-63 grades. For $250/month we can help you build a lovely gold type collection. Each coin will be third-party graded and certified by the world's leading grading services, PCGS and/or NGC. For those with a more ambitious budget and desiring higher quality, may we recommend $1,000/month for an MS-64 to MS-65 grade collection. Each coin will be third-party graded and certified by the world's leading grading services, PCGS and/or NGC.
SILVER AND GOLD:
Alternate between a silver and gold selection for your monthly acquisition program. May we suggest a nice mintmarked set of Morgan silver dollars in MS-65 condition, featuring the five United States Mints where these lovely coins were produced. You will receive one example from each of these important mints, Philadelphia, San Francisco, New Orleans, Denver and Carson City. Each coin will be hand-picked for quality of strike, luster and eye appeal and will be a Gem, MS-65 graded piece certified by PCGS and/or NGC. The gold portion of the collection program will consist of the 8 piece gold type set listed above. This program is available at the $500 monthly level for silver dollars grading MS-65 and gold coins grading MS-60 to MS-63. For Gem quality MS-65 graded silver dollars and gold, the $1,000 level per month is available.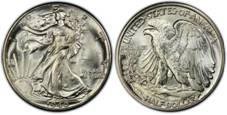 Walking Liberty Half Dollars:
Assemble a short set of Walking Liberty half dollars from 1940-1947 which inspired the design used today. These lovely coins were designed by Aldolph A. Weinman. Production of the design commenced in 1916. For a mere $100/month we will help you assemble a Gem collection of Walking Liberty half dollars from 1940-1947 (including all of the branch mint issues). Each coin will be certified for condition and authenticity by either PCGS or NGC and will grade MS-64 or MS-65. Additionally, we will hand select the coins for quality of surface, luster, strike and aesthetic appeal.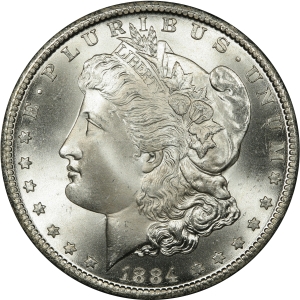 Carson City Mint Morgan Silver Dollars:
Assembling a complete collection of Carson City Mint Morgan Silver Dollars makes for a gorgeous display of scarce and desirable coins. This series is considered the most popularly collected crown-sized silver coin in the world. Minted from 1878-1893, you will receive coins graded MS-60 or finer. Enroll at either $100 or $250/ month. Choose from PCGS or NGC graded coins.
Commemorative Silver Half Dollars:
This collection comprises a literal history of the United States from the time of Columbus discovering America forward. Collectors either collect the commemorative series by type consisting of 54 pieces or the complete collection of 144 pieces. I suggest you begin a type collection and if the series fascinates you, complete it. You will receive pieces graded MS-63 or better certified by PCGS or NGC for just $100/month!
Type Set of United States Copper and Silver Coins:
Historically enlightening and visually appealing, assembling this collection will delight you for years. All major coin types will be included from half cents to silver dollars from the 19th and 20th century. Coins in this collection will grade EF-40 and above with later, more common pieces in higher grades. For only $100/month receive either certified PCGS or NGC graded coins..